Grammofon - turntable
Thorens TD124 - Beogram 3000, Type 5210, 1967-1968
Jeg er interesseret i Thorens TD 124 generelt og specielt udgaven fra Bang og Olufsen, Beogram 3000, Type 5210 fra perioden 1967-1968. I ikke B&O udgave er jeg interesseret i både drev og monteret i plint. Udgave til 9 og 12 tommer arme er interessant.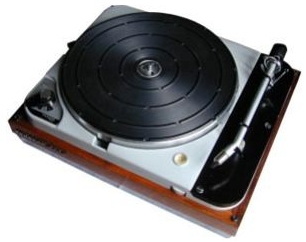 Beogram 3000, Type 5120, 1967-1968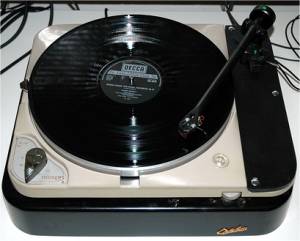 Thorens TD124 in Ortofon plint (not an Ortofon tonearm)


I'm looking for Thorens TD 124 turntable, both with and without mounted in plint. Especially I'm interested in the version from Bang and Olufsen, Beogram 3000, Type 5210, from 1967-1968.
Plints for both 9 and 12 inch tonearms both have interest.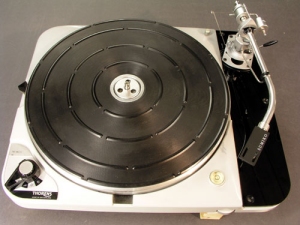 Thorens TD124 Mk II & SME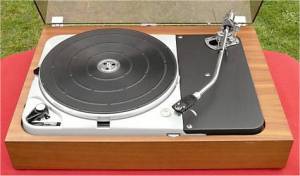 Thorens TD124 Mk II & SME 3012 (12 inch tonearm)


Jeg er også interesseret i Garrard 301 Transcriptor, enten værket alene eller monteret i en plint, med eller uden tomearm. Plinten foretrækkes at være konstrueret til at have en 12 tommer arm monteret, f.eks. SME 3012 eller en Ortofon arm.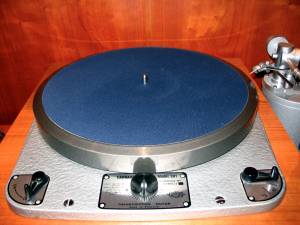 Garrard 301


I'm also interested in a Garrard 301 Transcriptor, either the drive alone or mounted in a plint with or without tonearm. Plint preferrable designed for 12 inch SME 3012 tonearm.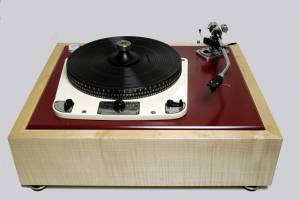 Garrard 301






____________________________________________________________________________________________________
Forstærker - Amplifier
Bang & Olufsen stereo rør forstærker/tupe amplifier Type 911 H58
Stereo rør forstærker Type 911 er B&Os første stereo forstærker. Som ren forstærker kræves en seperat AM / FM forsats for aflytning af radio. Udgangseffekt i størrelsen 2x4 watt.
This is Band and Olufsen's first stereo amplifier. Requeres a seperate tuner for receiving AM or FM radio. Power output around 2x4 watt.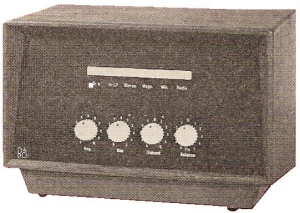 B&O Stereo forstærker/amplifier, Type 911 H58, 1958-1959
Bang & Olufsen High Fidelity Stereo Amplifier 608
Denne stereo forstærker blev produceret i perioden 1961 - 1964. Forforstærkeren besår af udskiftelige transistorbaserede moduler. Således kan pick-up indgangen ændres fra tilslutning af de nye hifi pick-up'er til tilslutning af krystal pick-up.
Udgangsforstærkeren er med rør: et ECC 83 og fire ECL 85, 2x15 watt.
This amplifier is a hybrid amplifier using transistors in the pre-amplifier section. The pick-up pre-amplifier is build on modules, enabling the owner to chose a pre-amplifier for modern hifi pick-up or for a classic crystal prickup.
The power amplifier is tybe based: one ECC 83 (one half for each channel) and four ECL 85's. Power output 2x15 watt.


Bang & Olufsen High Fidelity Stereo Amplifier 608, 1967-1968
Link to Bang & Olufsen High Fidelity Stereo Amplifier 608
here
and
here.
(Opens i another window)
Denne rør stereoforstærker fra Ortofon blev produceret i starten eller midten af 1960'erne. Den har 2 x 15 watt udgangseffekt. På mit gymnasium, hvor jeg gik 1969-1972, bestod anlægget i musiklokalet af en KS 601. Den var tilslutte nogle MEGET store højttalere, størrelse som to store komoder. Disse højttalere var formodentlig af amerikansk fabrikat Bozak, men monteret i kabinetter af dansk produktion. (Tak for det, da Bozak's eget design af kabinetter var meget "klassisk" i Colonial eller Viktorians stil).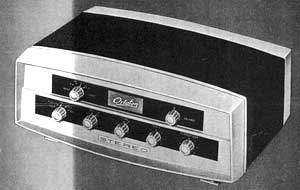 Ortofon KS 601 (1960s)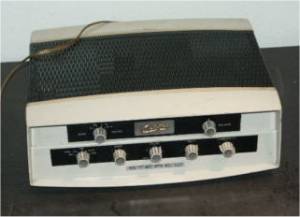 Ortofon KS 601 (1960s)
»This amplifier has been designed for music lovers. The amplifier has specially constructed for reproduction with the ORTOFON pick-up: stereo and moni. But also crystal and magnetic pick-ups can be used. FM-AM radio and tape recorder inputs are available. KS 601 has two push-pull outputs of 15 watt each giving ample volume for undistorded reproduction in large rooms and is ideal for reproduction in your home.«
Link to Ortofon KS 601 web-sides:
here
and
here (pdf 953 KB).
(Opens i another window)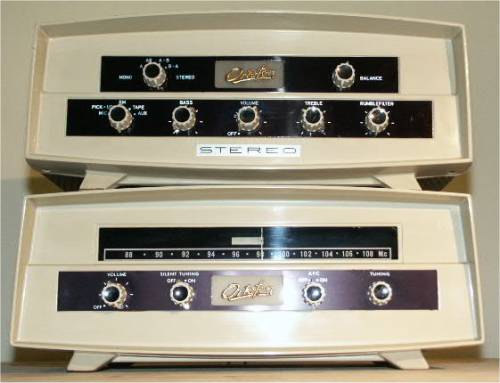 Ortofon KS 601 & KS 621 (FM tuner)
____________________________________________________________________________________________________
Højttalere - Loudspeakers
Bang & Olufsen Rondstraler, 1963-1965
I perioden 1963-1965 fremstillede Bang og Olufsen en rundstrålende diskanthøjttaler. Kabinettet var lavet i messing og indeholdt to små diskanthøjttalere. Disse højttalere var monteret i hver sin ende af cylinderen, men strålede indad mod midten. I midten var monteret en spredelinse, således lyden blev spredt 360 grader rundt i det vandrette plan.
In the years 1963-1965, Bang and Olufsen produced their first tweeter speaker with 360 degrees sound (a few years later, in 1967, B&O released their famours cube tweeter, the Beovox 2500 »Cube«). The Rondstraler contained two tweeters mounted at each end of the cylinder.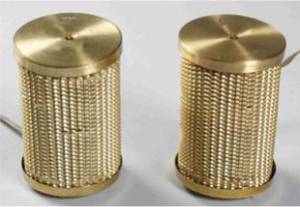 B&O Rondstrealer tweeter speaker, 1963-1965
Bang & Olufsen Højttaler, Type K, 1964-1966
Dette er Bang & Olufsens største HiFi højttaler fra midten af 60'erne. Kabinettet er af »trykkammer« typen, altså lukket of dæmpet med Rockwool. Systemet besår af en bas-, en mellemtone- og en diskanthøjttaler forbundet med et delefilter. Der er mulighed for at tilslutte en ekstern Rondstraler diskanthøjttaler.
Se artiklen om B&O's trykkammerhøjttalere på siden om 1964.
This is Bang & Olufsens's biggest speaker from the mid 60's. The cabinet is based on the revolutionary pressurised construction methods. It contans one woofer, one midrange and one tweeter speaker. It is possible to connect a Rondstraler for better high tone distribution.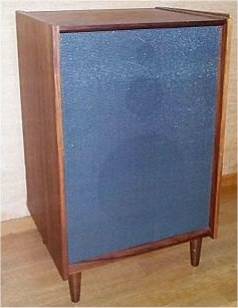 B&O Højttaler, Type K, 1964-1966
Bang & Olufsen Højttaler, Type 608 ca. 1969. Fuldtone i basrefleks kabinet
Med sit navn - 608 - indikeres, at denne højttaler var tiltænkt som højttaler til rør forstærkeren High Fidelity Stereo forstærker 608.
Det er en ret sjælden set højttaler.
Tjis speakers name - 608 - indicates it was soupposed to be the perfect speaker to be connected to the High Fidelity Stereo Amplifier 608.
It is a quite rare speaker.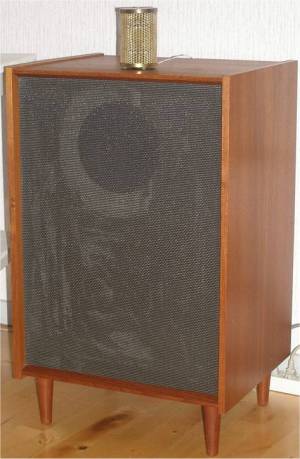 B&O Højttaler, Type 608, ca. 1960, ovenpå en Roundstraler
Bang & Olufsen Beovox 2500 »Cube«
Beovox 2500 blev introduceret som diskant spreder til Beolab 5000 anlæget. »Trykkammer«-højttalerne Beovox 3000, Beovox 4000 og Beovox 5000 plus et par flere fra perioden, have speciel tilslutning til Beovox 2500. Når Beovox 2500 blev tilsluttet til disse trykkammer-højttalere, blev den eller de indbyggede diskanthøjttalere afbrudt. Beovox 2500 blev derved en integreret del af højttaleren og dan den indgig som almindelig diskanthøjttaler, modtog den kun de høje toner fra trykkammerhøjttalerens indbyggede delefilter. Senere da højttalerenhedsfabrikanterne (Peerless, SEAS osv.) introducerede Dome diskant-højttalere, forsvandt behovet for en diskant spreder som Beovox 2500.
The Beovox 2500 were introduced together with the Beolab 5000 amplifier in order to spread the high tones, which were very difficult with tweeters from that time. Later the Dome tweeter outplaced the need for Beovox 2500.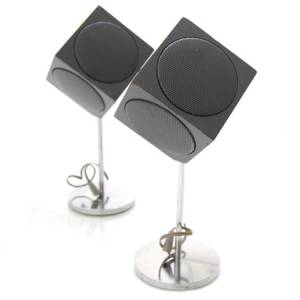 B&O Beovox 2500 »Cube«, 1967 - 1972, design by Jacob Jensen
Link to Beovox 2500 Cube speaker descriptions:
here at www.beolab.dk, at www.beocentral.com and one more description here at www.beoworld.org




Bozak B-305 URBAN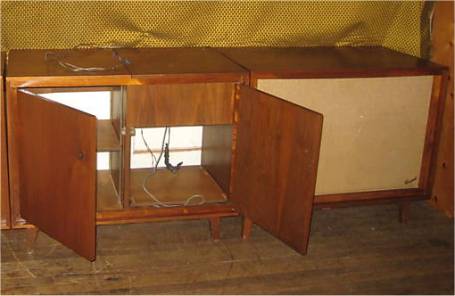 Bozak B-305 Urban speaker, ca. 1963
Det amerikanske firma Bozak producerede nogle af de højest estimerede hifi højttalere fra omkring 1950 til op i 80'erne. Model B-305 kunne leveres i forskellige type kabinetter, Urban (som vist på billedet), Contemporary og Provencial og måske flere andre.
Danske Ortofon skulle bruge nog effektive hifi højttalere, der kunne dække hele toneområdet fra dubeste bas til høje tomer. De importerede visse Bozak højttalere i 60'erne til deres KS 601 rør-forstærker. Ortofon fik højttalerne uden kabinetter og fik sådanne produceret i Danmark med et noget mere skandinavisk design end de originale amerikanske.
Størrelse: 93 x 81 x 45 cm (B x H x D)
The Danish Ortofon imported Bozak in the 60'. The speakers came to Europe without cabinets, which Ortofon got produced in Denmark with a modern Scandinavian design.
Size: 36½ x 32 x 18½ inch (W x H x D)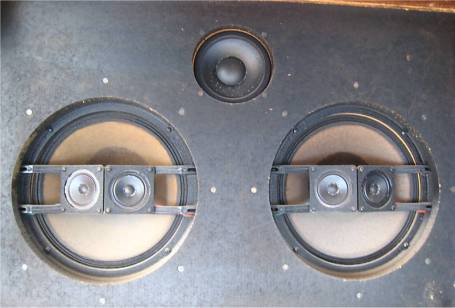 Bozak B-305 1956-1968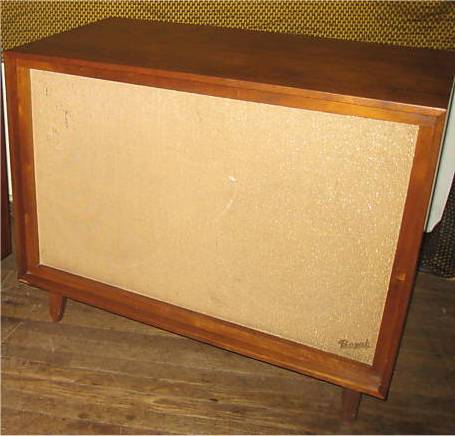 Link to some Bozak pages:
Old Bozak brochures www.hifilit.com
Bozak, Inc. "The very Best in Music"